Discover more from Protocol Labs Network
Subscribe to PLN Updates to keep up with the latest team and project news and developments from around the Protocol Labs Network.
Over 2,000 subscribers
PLN Updates - July 24
This edition features highlights from PLN teams @EthCC, a new image verification tool in the age of Generative AI, Authentication Service for the PLN Directory, Q&A with Gensyn & more!
⚙️ New Tool Alert: Capture Dashboard by Numbers Protocol
Shipped: June 2023
What It Is: Numbers Protocol's Capture dashboard allows users to register images instantly on the blockchain, verifying origin and authenticity. This is valuable at a time when AI is getting smarter – just look at this year's winner of a prestigious photography award.
Why It's a Big Deal: From the luxury fashion industry to documentation of war crimes in Ukraine, the ability to authenticate digital media is vital in the age of generative AI when photo manipulation is easy and widespread. The company's tech was even used to chronicle 78 days of the 2020 US presidential election with Reuters.
The Big Picture: There are major implications in this space from NFTs to politics. Research shows that generative AI will account for 10% of all data produced (vs 1% today) by 2025 – and a major blockbuster film will be released with 90% of the movie generated by AI by 2030. Let's hope AI is good at coming up with superhero names.
—> Download the Capture app here.
---
📢 Introducing Authentication Service in the PLN Directory
Drum roll… Our favorite PLN Directory is leveling up with a new Authentication Service to keep personal data private as our community grows!
With authentication, every PLN member will be able to:
Log in with a variety of options, including your email or wallet.

Directly update your own Profile and Privacy Settings without waiting for Admin changes.

Keep your data private and secure as only logged in members will be able to view your contact information and location.
The bonus? We worked with PLN member Rollup.id as our user management platform, specializing in open source compliance and privacy.
—> Login here. Get verified by July 31 and we'll send you a special PLN NFT!
---
📢 Announcing: New PLN Blog Series on Protocol.ai
We are excited to kick off a new blog series on Protocol.ai that dives into the ideation and execution of Web3 startups within the PLN, featuring insights into the challenges and wins along the way.
This month, we profiled Cryptosat, a startup that builds crypto-satellites that power blockchain in space. Last year, the company successfully launched two cryptographically equipped satellites, Crypto1 and Crypto2, with plans for a third later in 2023.
—> Read the blog post here.
---
📈 An Expanding Network
Welcome to the following team that recently joined the PLN directory!
Bluesky: A decentralized social media network building the AT Protocol for a new format for public conversation that gives creators independence from platforms and developers the freedom to build.
📡 Network Radar
---
🗓
PLN @EthCC | Launchpad Summit
Virtual learning cohorts had a chance to mingle during the Launchpad Summit over five days in Paris, France in mid-July! There were over 350 attendees at the Launchpad Social alone.
—> Apply to join future cohorts here and collaborate with Launchpad or offer sponsorship here.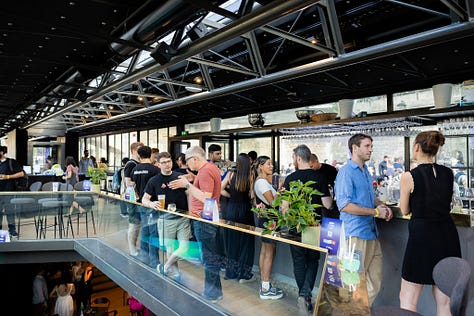 ---
🗓
Key Event: Mark Your Calendar
Did you attend a PLN event at EthCC in Paris, France in July? There were plenty of networking and learning opportunities by the likes of Funding the Commons, Launchpad and CryptoEconLab. If you're craving more, check out this month-long Funding the Commons Berlin Residency in Germany from September 1 to 30, designed for builders in the public goods space.
—> Sign up to attend here and register to speak here.
** And stay tuned for a very exciting LabWeek23 announcement coming soon! **
---
🔦
Spotlight:
The Gensyn network is a machine learning compute protocol that cuts out middlemen in the cloud industry and doesn't add extra charges. This reduces the cost of compute and creates efficiencies among underutilized devices. Get to know co-founder Harry Grieve in this Q&A.
Tell us a bit about yourself.
I grew up in Scotland and studied econometrics. In 2016, I became aware of statistical machine learning (ML) approaches applied to econometric problems when someone in my lab gave a talk on the Random Forest algorithm. I knew immediately that ML was what I wanted to do. That ultimately led me to lead the Data Research team at an applied ML startup in London, where part of our scope was to predict building fire damage.
Two things became clear to me during my time there: 1) the application of ML to all other walks of life was inevitable, and 2) that compute or data would be the key bottleneck to the growth of ML into those new areas. 
Partnering with my co-founder, Ben Fielding, in February 2020, we explored both and settled on compute as the key vector for pushing the frontiers of ML. To us, solving the compute problem required uniting all of the world's compute resources in a way that was low cost and easy to access. Researching that problem led us directly to cryptonetworks.
How did you get into Web3?
When searching for a way to orchestrate neural network training over multiple GPUs with no central party. If cryptonetworks are great for anything, it's hardware incentivisation.
What advice would you give to someone joining Web3?
Don't think about it as 'joining Web3' as it creates an in vs. out group mentality - and the best protocols are those which are credibly neutral. Instead, think of it as just using a new technology.
What challenges or rough edges would you like to see solved in Web3?
What are your favorite podcasts or books?
I'm not a huge fan of the podcast format and prefer reading. A cross section of favorites from various genres include Heart of Darkness by Joseph Conrad,  Do Androids Dream of Electric Sheep by Philip K. Dick, and Utopia by Thomas More.
Tell us something you like to do for fun.
I love Sci-Fi novels and have probably read about 20 in the past year. I'm currently reading Book 9 of the Gaunt's Ghosts series by Dan Abnett. In 2023, the best sci-fi book I read was 'The Moon Is A Harsh Mistress' by Robert A. Heinlein.
---
📱 PLN Events
🚀 Bookmark the PLN Events Page for the most up to date events in the community. Sign up for these events coming up in the next few months:
---
💡Learn
Zama led an interesting workshop at EthCC Paris on Homomorphic Encryption (FHE), described as a way to process data encrypted without seeing it. Watch this recap to learn how this process aides the writing of smart contracts in Solidity:
---
🍿 Fun Corner
Read a good book or listened to an insightful podcast recently? Let us know.
---
📝 Tips?
Have a suggestion for the next PLN Updates newsletter? We'd love to hear from you! Contact Sara Hamdan at sara.hamdan@protocol.ai.
Thanks for reading PLN Updates! Subscribe to receive news from around the network.